Each day at Machu Picchu, 400 people are permitted to hike Huayna Picchu, the famous jagged mountain that looms behind the "Lost City" in all of the famous photos. Featuring original Incan stairways and ruins, hikers around the world try to secure entrance tickets to experience Huayna Picchu firsthand.
Huayna Picchu Hike
The hike itself isn't too long; if you're moderately in shape it should take between 1.5 – 2 hours to get to the top, depending on how many times you stop to take photos. You gradually rise above Machu Picchu and get a totally different perspective on the city. At the peak of Huayna Picchu you have a 360-degree view of the cloud forest mountains surrounding the Machu Picchu area.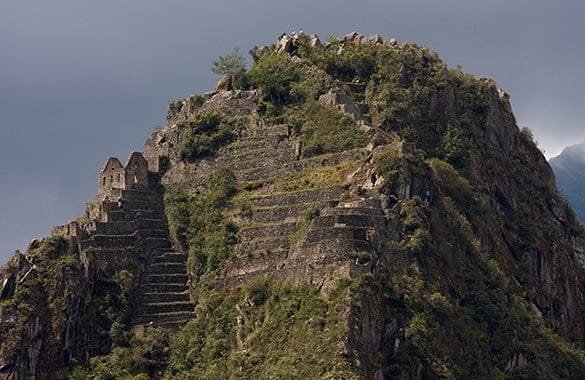 While stunning and unique, this hike isn't for the faint of heart. Shortly after the trail head you have to address the knife's edge trail that drops almost 2,000 feet to the valley below. Equipped with railings, you can safely navigate this trail, but I would strongly discourage attempting this adventure if you have a fear of heights.
If you do decide to enjoy the Huayna Picchu hike, here are 3 tips to help you get the most out of your experience:
Arrange for hiking permits. Find yourself a reputable travel agent who knows how to book this trail. It sells out 3-4 weeks in advance throughout the entire year and it just isn't worth waiting or taking the chance to miss out.
Become friends with your StairMaster. The best way to prepare for this hike (and Machu Picchu and any other Incan Ruin) is to practice going up and down stairs. The Incas liked direct routes so at certain points of the hike you will find stairs that are 1.5 – 2 feet high This is especially popular throughout parts of the famous inca trail. The better prepared you are for stairs, the better experience you will have on the trail.
Make sure you have plenty of time at Machu Picchu. 200 permits are issued for departure between 7:00-8:00AM and 200 more are issued for 10:00-11:00AM. Getting to Machu Picchu in the first place is quite the trek so make sure you get into town at least the night before so you don't miss your hiking window
Happy Travels and see you on the trail!