Common Area in Treehouse Lodge
From the minute you get off the boat and begin your walk along the grand serpentine entrance, you will sense the uniqueness of this
jungle amazon lodge experience.
Depending on the water levels, the entrance will carry you over a lagoon or the jungle floor to the heart of Treehouse Lodge's 345 acre pristine jungle preserve.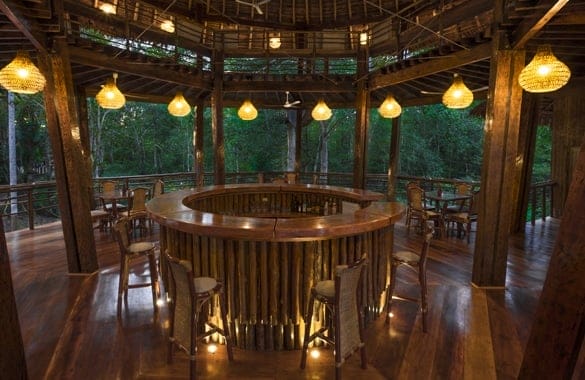 The main lodge is an impressive and beautiful structure that sits in the middle of the vast Iquitos jungle. It connects to all the treehouses by raised wooden pathways and steel cable bridges. Built with 36 huge beams made from iron wood, the treehouse hotel is so strong and dense that it sinks slightly into the water. Each beam required 14 people to haul from the river and winch it into place. From the bottom floor, you can look up to the top of the roof towering over 40 ft high. On the bottom floor, you will enjoy every meal (prepared in our state-of-the-art kitchen), be able to lounge around the bar. The second floor will beckon you to sit or lay under ceiling fans. Not to worry, the entire structure is enclosed by mosquito mesh, so you can appreciate your eating and relaxing time in peace.
As part of your trip, you'll enjoy regular excursions away from the lodge to see the Amazon animals and rainforest. However, should you choose to stay close to home, you can still appreciate the wildlife that inhabit the jungle. At the lodge, you may be fortunate enough to see 5 different species of monkeys, pink and gray dolphins, sloths, macaws, parrots, and parakeets. They're rare, but the lodge has even been visited by small tigers and jaguars! Seeing monkeys from the ground is wonderful, but watching 50 monkeys migrate through the lodge from the view of your treehouse or connecting bridges is unforgettable and thrilling.
Treehouse Lodge was designed to give it's guests the best views of the rainforest and its native animal life. Every treehouse has a lower public platform and an upper private platform where you will stay. All guests are welcome to explore the lodge and rainforest canopy from all of the lower platforms connected by bridges.