The flavor of Ceviche is the tangy taste of lime, with a bit of garlic and spice mixed in. For the typical American, Peruvian ceviche will fill your mouth with what seems like a thousand new flavors and sensations.
It is the most prominent of Peruvian dishes, and it is actually Peru's national dish. It shouldn't be missed on a trip through Lima. This incredible dish even has its own special day. On June 28th every year, Peruvians celebrate by gathering with family and friends to cook some of their own special variations on this classic dish.
If you're feeling adventurous or just looking to reminisce about the trip you've already taken, here is an authentic Peruvian ceviche recipe that you can try out on a calm Sunday afternoon.
Ingredients:
1 1/4 pounds fish fillets ( sea bass, sole, or flounder), cut on the bias into 1-inch dice

1-quart water, boiled and chilled

1 red onion, cut in 1/2 lengthwise and sliced thin

1 aji amarillo, rib and seeds removed, diced

1 clove garlic

Salt and pepper

1/4 cup fresh lime juice

1/4 cup fresh lemon juice

2 teaspoons finely chopped cilantro leaves

2 ears corn, cut in 1/2

1 sweet potato, sliced 1/4-inch thick

2 tablespoons canola oil

1 head butter lettuce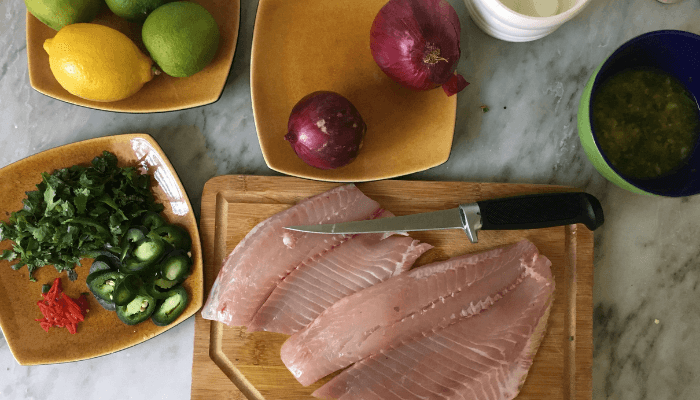 Preparation:
Pre-grease the grill and preheat to medium-high. Place fish in a non-reactive bowl. Add 3 cups of chilled water to the fish and rinse gently. Drain water. Add onions to remaining chilled water and let soak.

Meanwhile, place aji, garlic, and a pinch of salt in a mortar and pestle. Grind to make a paste.

Combine fish, lime and lemon juices, aji and garlic paste, salt, pepper, and cilantro. Let marinate for 10 minutes. Brush corn and sweet potato slices with oil and place on the grill. Cook for about 10 minutes.

When ready to serve, divide fish ceviche among 4 lettuce cups and top with onion slices. Serve with grilled corn and sweet potato slices and garnish with Japanese seaweed, if desired.
Thank you to the Food Network for their recipe.
6 Tips For Making Peruvian Ceviche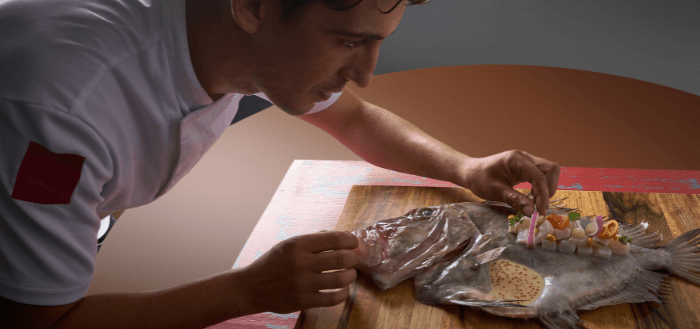 Always Use Fresh Fish

: The fish that is used in

Ceviche

is cooked by the acids of the lemon, for that to function the fish needs to be fresh. If the fish is not fresh it might not cook well and that can be dangerous. 

Don't Squeeze All The Lemon

: When you squeeze the lemon all the essential oils of the shell can produce a bitter flavor and ruin all the taste of the lemon juice. Just

squeeze 3/4 of the lemon

, to make a good Ceviche it's just what you need. 

Cut The Fish

: It's recommended to

cut the fish thick

, approximately 5-6 inches, and in cubes. Also, freeze the fish for 2 hours before cutting. 

Always Use Additions

: The perfect Ceviche always has to go with

sweet potatoes, white corn/ regular corn or yuca

. You can even try to combine them to provide extra flavor.

White Fish:

Peruvians recommend using

any type of white fish

for this preparation, they say it is a better flavor, but in case you can't find it, other fish with softer flavors can function as well. 

Marinate On The Fridge

: As soon as you combine the fish with the lemon juices, aji and garlic paste, salt, pepper, and cilantro,

let it marinate for 10 minutes in the fridge

.
Types of Peruvian Ceviche
Everyone loves Ceviche in Peru, that is mainly because you can find many types of ceviche that are super yummy! To learn more about this popular Peruvian recipe, check this list with the most populars and that you'll find in any Peruvian restaurant.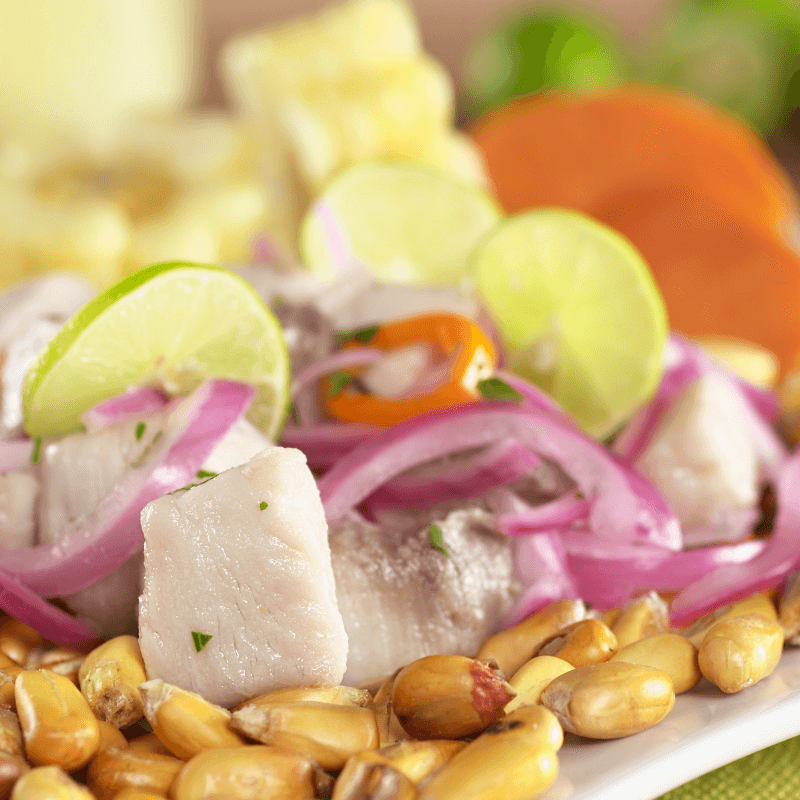 Ceviche de Pescado
(Fish Ceviche)
It's the most popular and common type of Ceviche in Peru. It's made with just fish, purple onions, sweet potato and cancha (corn for the Peruvian Andes). It is also known as simple ceviche.
Ceviche de Mariscos (Seafood Ceviche)
It's the same preparation but with octopus, prawns, squid, and more. In this case you won't use any type of fish.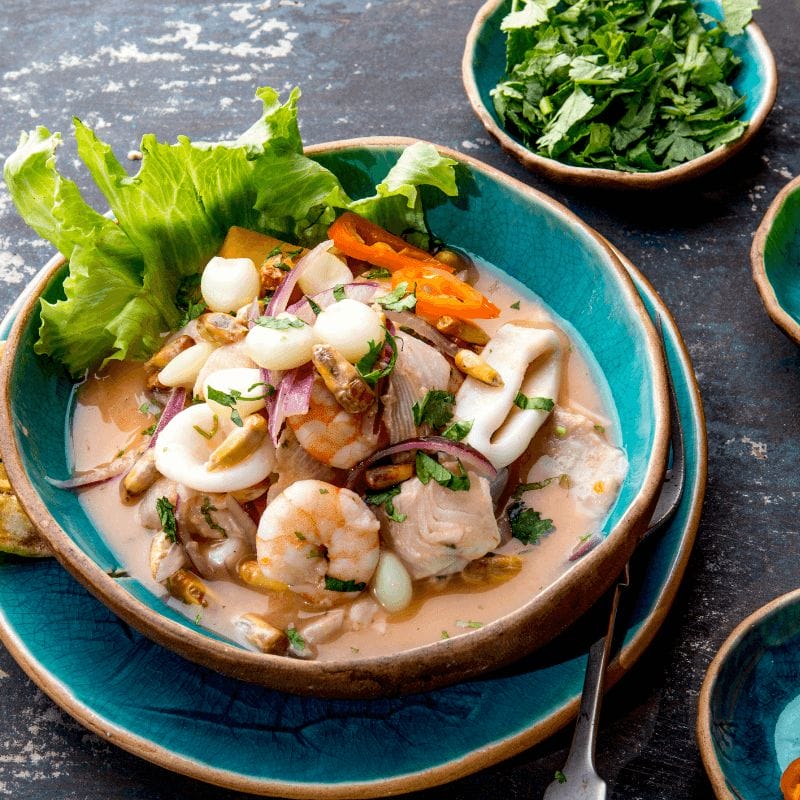 Ceviche Mixto
(Mix Ceviche)

Well like it's on name says, it's a mix between Ceviche de Pescado y Ceviche de Mariscos. Same ingredients.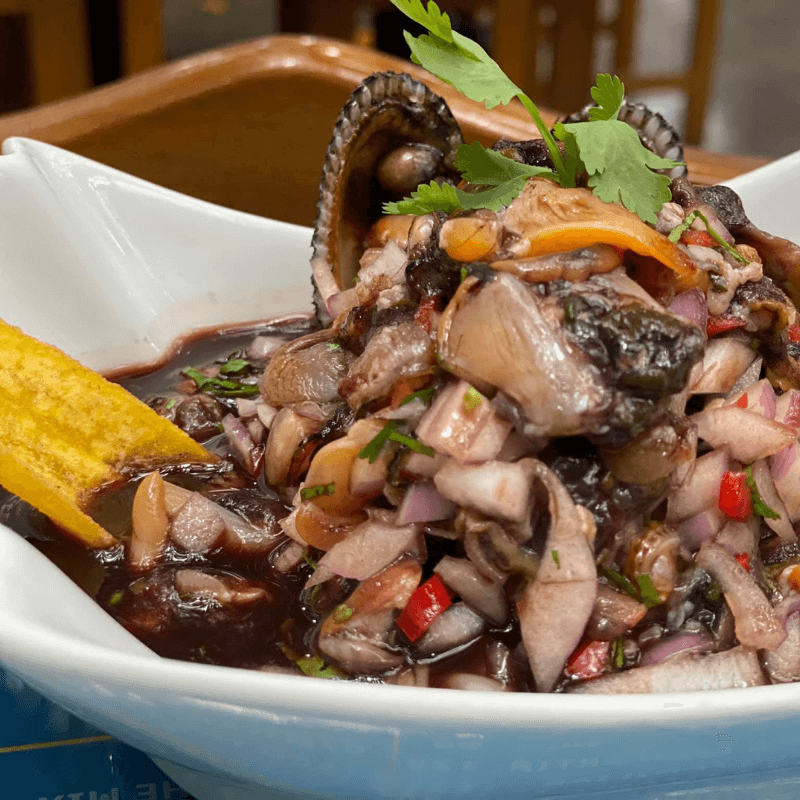 Ceviche de Conchas Negras
(Black Shell Ceviche)

This type of ceviche is very popular in the north of Peru because the black shell is harvested in Tumbes(a region in Peru). It has a salty taste and a black color, but it tastes amazing.
If you want to try this and other delicious Peruvian cuisine, our chef at Treehouse Lodge will prepare spectacular one of a kind dishes for you to try throughout your trip. Contact us to book your treehouse in Iquitos for this amazing experience!