**This is Part 2 of a 3-Part series, to see Part 1, please click here
#2: Enjoy a leisurely stroll
Lima has one of the most agreeable climates on the planet. In the winter it never dips below 60-degrees and in the summer it's never above 80-degrees. With the ocean breeze, coming in off of the Pacific, it's the perfect time to go for a leisurely stroll in Miraflores.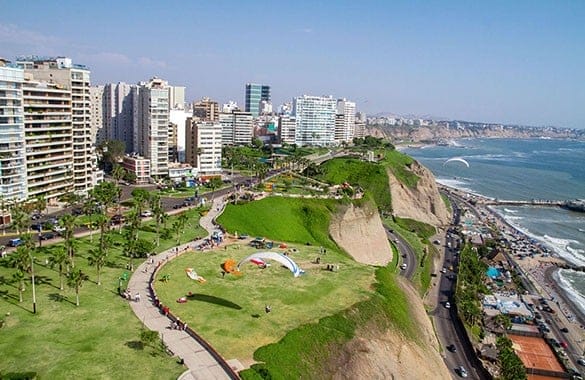 The boardwalk along the Costa Verde ("Green Coast") goes for miles and is the perfect place to start. Once you leave your hotel, head towards the ocean until you find the sidewalk that goes along the cliffs of the Lima coast and follow it for as long as you want. Along the way you will find Parque de Amor ("Park of Love"), or the artistic Barranco district, or various parks and vistas that will all provide the perfect scenery for your vacation. You can look down and see the surfers catching the constant breaks on Makaha Beach or you can look up and see the para sailors that frequent the Miraflores area of Lima.
When you're ready for a break, you can walk up Avenida Larco and see Parque Kennedy (Kennedy Park), named after JFK, which features quaint cafes and restaurants, as well as an old colonial cathedral as well as street vendors and artists. This is the perfect place to enjoy a coffee or gelato and take in the culture of Peru's capital city.
Once you've relaxed and recuperated, there is an unbelievable amount of shopping available. From artisan markets, featuring hand-made Andean crafts, alpaca scarves and sweaters, and local art to high-end stores in the Larcomar mall overlooking the ocean. More likely than not, you will find something along your way as you walk the streets of Miraflores and Barranco, where you will stop and find something unique and beautiful.
One of the biggest mistakes travelers make when traveling to Peru is not spending any time in Lima. And even more of a mistake is not leaving a couple of hours to walk through these beautiful streets and experience the culture of the the "City of the Kings." Don't number yourself among those who miss out on one of Peru's greatest gems.
Happy Travels…