You would think there would be plenty of water in the Amazon.

There is, really – it is, indeed, the rain forest. The challenge is capturing water and turning it into something that won't give you dysentery.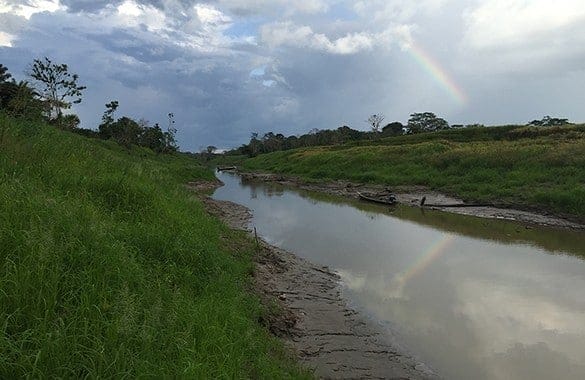 Fortunately, there is the Clean Water Project. Located just 5 minutes down the river from Treehouse Lodge, this 300-person village uses their local river for everything: bathing, using the bathroom, doing the laundry, washing dishes, and drinking. As you might imagine, this causes an inordinate amount of illness.
The Clean Water Project is happening now and will go on for another 4 weeks or so. Here is a summary of the project:
We're using the huge roof of the school in this village to capture the water via large gutters we've installed. During the capture, a coarse filter removes any debris and prepares the water for the chlorine tablets and the final carbon filter.
The community will have 4 tanks (2,500 liters each) for a total of 10,000 liters of clean water storage. With 2 spigots, waiting in line for your water should never be an issue.
The directions are the middle of preparing a concrete platform that can handle the weight of 10,000 liters of water. As soon as it's ready, the gutters, tanks, pipes, and filters will all be installed.
We're excited about the Clean Water Project and look forward to having clean water in this local village. It is our small "Thank You" to the community for not only sharing their neck of the woods with all of us at Treehouse Lodge, but also for producing some of the finest guides and chefs in The Amazon.
Happy Travels…