Cusco: city of treasures
In 1533, Francisco Pizarro was in the midst of the conquest of the Incas. After being captured by Pizarro, the Inca Emperar Atahualpa proposed to buy back his freedom by filling a room with gold. The room was 22 feet long and 17 feet wide. It is said that Atahualpa filled the room with gold up to a line 9 feet high. Although that gold was eventually lost, the cultural treasures of the Incas live on.
San Blas Neighborhood
One of the treasures of modern-day Cusco is the neighborhood of San Blas. Narrow, cobblestone streets create a web of walkways and hidden plazas that always have something going on.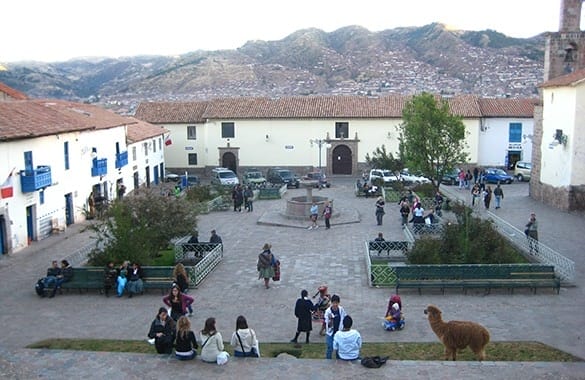 The main plaza is home to quaint restaurants, artisan markets, and the famous San Blas Cathedral, with it's big blue colonial doors. You can take a glimpse at the handpainted murals inside for about $3 USD. While walking through the streets, you'll also find boutique hotels, locally-owned bakeries, beautiful little gardens, and perhaps even a llama or two.
If you want to try the local cuisine, visit Pachapapa. There, you can sample the earthy flavors of the Andes. Or, if curry sounds good, walk up the stairs by the San Blas water fountain and visit Korma Sutra curry house for some authentic Indian food.
If you aren't hungry at all, take an hour or two and get lost in the winding, beautiful streets of San Blas. You'll get a peek into Cusqueño life and a glimpse of the past. On that walk, make sure you find stairs that will take you up above the plaza where there is a viewing area of the entire city of Cusco.
Happy travels…