If you are planning a trip to Peru, you must know that Peruvian Food is one of the top reasons for which Peru is most well known. With over 400 original dishes it can be difficult to decide which one is Peru's national dish. Through Peruvian food you will sample some of the amazing culture that you'll find in this country. Flavors from the coast, the Amazon and the Andes will leave you wanting to come back. 
5 Peru National Dishes You Must Try:
1. Ceviche: Peruvian Marinated Fish
Peruvian Ceviche is  essentially spicy, raw fish with salt, garlic, onions, and hot Peruvian peppers, all mixed and marinated in lime. The lime denatures the protein, giving the fish a slightly cooked texture. There are many variations on the recipe; depending on the chef, your typical Peruvian ceviche could include a touch of milk, citric juice, and many other ingredients. It is usually garnished with a slice of lettuce leaf and accompanied by canchita–kernels of corn–and sweet potato.
Most people consider ceviche as the Peru's national dish because it is very popular, and you'll find it all over Lima and throughout the rest of Peru. From top-tier restaurants all the way to little corners in the market, this classic and delicious meal is always present. 
We'd love to share a good recipe for ceviche so you can share it with your loved ones. Here's the list of the main ingredients: 
1 1/4 pounds fish fillets ( sea bass, sole, or flounder), cut on the bias into 1-inch dice
1-quart water, boiled and chilled
1 red onion, cut in 1/2 lengthwise and sliced thin
1 aji amarillo, rib and seeds removed, diced
1 clove garlic
Salt and pepper
1/4 cup fresh lime juice
1/4 cup fresh lemon juice
2 teaspoons finely chopped cilantro leaves
2 ears corn, cut in 1/2
1 sweet potato, sliced 1/4-inch thick
2 tablespoons canola oil
1 head butter lettuce
– Click here to see the complete recipe for Peruvian ceviche. 
2. Pollo a la Brasa: Peruvian Roasted Chicken
This one is a Peruvian favorite, so much so that there's even a designated national day for it in July! This is a roasted chicken seasoned with salt and cooked in charcoal, and each restaurant in Peru uses a "secret" mixture to prepare it, mainly consisting of vinegar, soy sauce, pepper, chili, and other spices, to then grill it in specially fabricated Pollo a la Brasa ovens. It's commonly served with thick French fries and a small salad on the side.
You'll find many restaurant options to try the famous Pollo a la Brasa as soon as you arrive in Peru. But we highly recommend trying Pardo's Chicken for your best possible experience. 
3. Lomo Saltado: Peruvian Tender Steak With Soy
This dish has a unique Peruvian twist. Lomo Saltado dials up the Chinese influence on Peruvian food, known as "chifa". This plate mix cuts of tender steak, onion, tomatoes, and aji amarillo, a flavorsome Peruvian yellow pepper, all flash-fried in soy sauce. 
It's served with Peruvian rice, fries and a fried egg on top. You can try this plate in many famous restaurants including Maido and Central, two of The World's 50 Best Restaurants.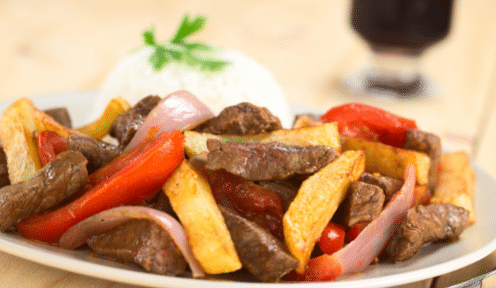 4. Peruvian Anticuchos: Peruvian Grilled Beef
At first, it may seem odd to try these pieces of beef heart, marinated in a blend of spices and grilled on an open fire, but once you try them, you will understand why they sell them in so many places in Lima. From the moment you smell it until you eat them, you will enjoy a unique experience and taste. 
5. Papa a la Huancaina: Peruvian Potatoes with Cream
This is commonly served as an appetizer. Papa a la Huancai­na are boiled yellow potatoes covered with a yellow spicy and creamy cheese sauce and accompanied by hard-boiled eggs and black olives. It is so popular that you can find this sauce as a dip for everything: fried yucca, as a sauce for spaghetti or risotto, over Causa Limeña and more. 
These are just a few options for the variety of Peruvian dishes and tastes you'll find. Try as many as you can, and don't forget to ask for an Inca Kola, the most popular soda in this country. And if you prefer something more natural, don't leave Peru without trying Chicha Morada.