Why you should visit Miraflores?
There's always a breeze along the green coast of Miraflores in Lima, Peru. During the summer, the sun occasionally peeks through and makes it feel like 85 degrees, but most of the time it is Lima's famous gray skyline.
From the boardwalk you are hundreds of feet above the Pacific ocean and can identify the sets of waves that make Lima a popular surfing spot. To the south you can see the Chorillos bay, usually spotted with fisherman trying to catch the perfect flounder for a ceviche. To the north, if it isn't too foggy, you can see San Lorenzo island, just off the coast from the Lima National Airport.
These sweeping vistas are the perfect setting for a walk. You can start at Larcomar Mall then turn back around when you see El Beso.
El beso
El Beso – or "The Kiss" – is a sensual sculpture by Victor Delflin that serves as the centerpiece of the Parque del Amor – the "Park of Love." A popular spot on Valentine's Day, and for any newlywed couple in Peru, the Park of Love features all kinds of quotes and spots for romantic locals and tourists alike. In fact, there used to be an annual contest to see which couple could impersonate the kiss for the longest amount of time.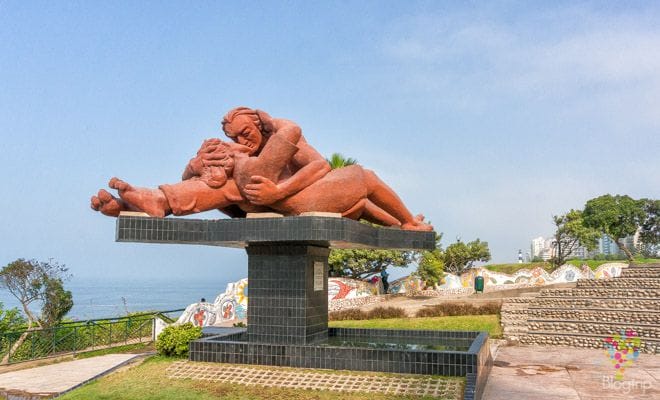 This is the perfect spot to enjoy Lima's temperate climate and ocean breeze. Whether you've just returned from the Amazonian rain forest, or you're on the verge of a great Andean adventure, take a moment at the Park of Love to rest and relax…
Happy Travels…