Our Experience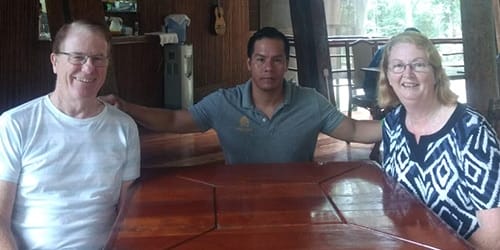 The experience we had at the Treehouse Lodge was exceptional. We felt right at home in treehouse number 10 – 500 steps each way! The staff, guides (especially Edgar), and our driver (Llemer) were fantastic. We learned so much about life in the Amazon. Jungle hikes, bird watching, kayaking in a dig out canoe, and visiting the local community were our amazing excursions.
Being a retired school teacher, I loved seeing the children playing after school.
We loved piranha fishing in the big lake where we say an osprey dive to catch a fish. Amazing!
We now have a greater understanding and appreciation of life in the Amazon. It was fun to go into the Dead Lake to spot caiman and fireflies and worms in the dark. Edgar even tried to catch a caiman to show us.
Thank you to all the staff. Edgar is a fantastic guide and Llemer is a great driver. We will have fantastic memories of our stay at Treehouse Lodge.
Our Treehouse