Our Experience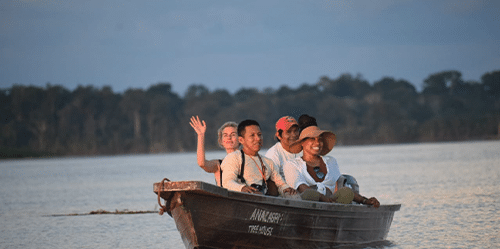 I wanted to take the time to really choose my words carefully, so that I could emphasize what a fantastic time I had at the Treehouse Lodge. Unfortunately I could not find the perfect words so I will just have to settle singing these praises.
I stayed in Treehouse #9 from June 5, 2021- June 9, 2021. It goes without saying that Treehouse lodge is so uniquely beautiful with treehouses in the canopy of the Amazon rainforest, but it is the staff that makes this place Exceptional. From the pickup at the airport with our wonderful and safe driver Robert, to the flawless housekeeper (I really wish I got his name to credit him) with exceptional focus on details.
Being a big foodie, I was especially excited daily by Americo's delicious meals. And then they were served by the delightful Martin, who always knew what I needed before I did. And was so knowledgeable and helpful.
And finally our incredible guide, Johnny and driver, Jerison. I could go on and on about these two. I feel that I had the best guides for me and my experience. I really wanted to feel like I was in the Amazon, see all the animals and do everything I could. They made sure this was possible plus more! They were so kind, flexible and you could tell they thoroughly enjoyed showing us around their home "the Amazon". I wasn't sure this trip would live up to my high expectations I have been building and dreaming of since I was 7 years old but it surpassed them!
Thank you so much for everything!