Machu Picchu is a magical place; many visitors report a feeling of peace, energy, and mystery. It is one of the few destinations on earth that can offer such an experience. Yet, if sufficient preparations are not made, it can be an experience of fatigue, pain, and anxiety. To avoid those consequences, and to ensure the best possible experience, we recommend the 6 key items for a visit to Machu Picchu:
1. Clothes We recommend that you bring the clothes on your back (pants, shirt, light jacket, and hat), one extra shirt, and one extra set of underclothing. There is no need to bring a large suitcase full of clothing. At most, you will stay 3 days at Machu Picchu, and if you end up needing more than two pairs of pants, buy the touristic parachute pants offered at almost every artisan market in Perú (readily available for s/. 20).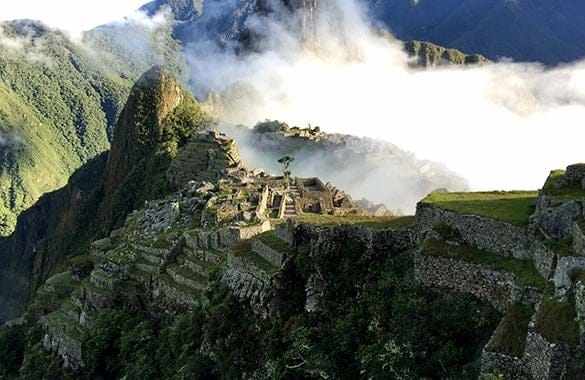 2. Water Bottle(s) Once inside the Machu Picchu citadel, there is no water station, and no bathrooms. Bring at least 1 liter of water per person, as on sunny days you will quickly get dehydrated. You don't want to find yourself on the far-side of the park, thirsty, and without water.
3. Sunscreen This is essential. Perú has recorded some of the highest levels of UV rays in the world. Bring a bottle of sunscreen, apply it in the morning before ascending the ruins, and apply it throughout your visit to Machu Picchu. This little detail will make all of the difference on the 4-hour journey back to Cusco.
4. Camera/Charger You don't want to miss out on the opportunity to eternalize a photo of yourself in the "Inca King" pose, looking out over the lost city. Many visitors find that one battery charge is not sufficient, so if you have an extra battery pack, bring it. Especially if you're one of the lucky ones who will climb Wayna Picchu. Make sure the battery is fully charged before you take off to see the ruins. Also, make sure your charger is okay for Peruvian electrical outlets before you plug it in.
5. Passports/Entrance Tickets You obviously will be unable to enter the park without your tickets, so don't forget them! You will be required to show your passport upon entry to the train and to the Machu Picchu ruins; not to mention that it is exciting to stamp your passport with a Machu Picchu seal located just inside the check station.
6. Anything valuable Since you are most likely leaving your belongings behind at your hotel in Cusco, it is important that you take anything valuable along for the ride. You can never be too careful.
Anything other than these 6 essentials is just fluff. Don't bog yourself down with numerous large luggage bags. Bring what really matters so that you can focus on experiencing the wonder that Machu Picchu has to offer.