As an Amazon rainforest lodge, Treehouse Lodge is the perfect place to coexist with amazing and exotic jungle animals. During your stay, you'll have the chance to see them in their natural habitat, learn about them, and take pictures of the following species.
Here's a list of 5 amazing animals you'll find during your vacation at the Treehouse Lodge:
1. Sloths
Although our friendly neighbor Pablo (a domesticated sloth in the Puerto Miguel village)  is the most famous sloth in the jungle, you will be able to see many more of them hanging upside down in the trees during your jungle walk excursions. Also, you can hug Pablo and take some pictures. Fact: Sloths are among the slowest-moving animals on Earth; they can swim but are virtually unable to walk.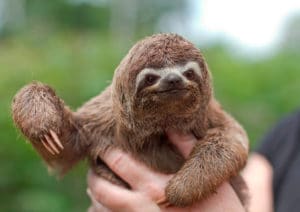 2. Pink Dolphins
The Amazon River is home to a variety of species, many of which you'll experience during your time with us. One of the most impressive is the pink dolphin. This is the largest species of river dolphin, with adult males reaching 185 kilograms (408 lb) in weight and 2.5 meters (8.2 ft) in length. During your stay at our rainforest treehouse, you'll enjoy a sunrise or a sunset with the dolphins and if you're feeling particularly adventurous you can jump in and swim with them in the Amazon river.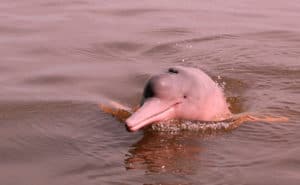 3. Monkeys
5 species of monkeys are often seen and heard right at our Amazon lodge in Iquitos. You'll never forget the experience of 50 – 100 Squirrel Monkeys passing through the trees outside your treehouse or viewed from one of our canopy bridges. Many mornings you will be awakened by the eerie and notoriously frightening sound of Howler Monkeys. You can also choose to visit Monkey Island, which is one of our amazon river excursions and is home to multiple species of monkeys in the wild. On this excursion, you could see a variety of animal species, such as Wooly Monkeys and also Coati.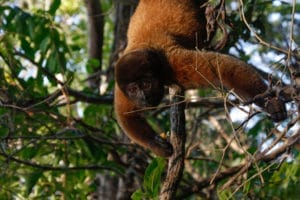 4. Piranhas
Piranhas are a fascinating, integral part of ecosystems all around the Amazon River. In your trip to Treehouse Lodge you'll have the chance, not only to see them in their natural habitat, but to learn to fish them in the style of the natives of the Amazon: armed with a wooden pole, string, hook, and meat that you will lower as bait, into the water.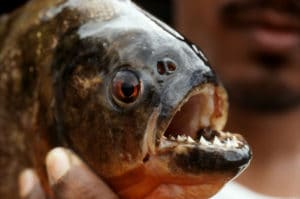 5. Leafcutter ants
When you arrive at Treehouse Lodge you will be surprised by the variety of insects but one of the most striking are the leaf cutter ants. According to their size, ants fulfill specific roles such as defenders of the colony, caretakers of the young, gardeners, foragers and leafcutter and they also practice advanced methods of sustainable agriculture.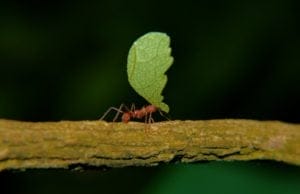 As an eco-friendly hotel, Treehouse Lodge is dedicated to protecting the flora and fauna of the Peruvian Amazon. We've eliminated single-use plastics and we are using solar energy to power our retreat!