Over a million people visit Machu Picchu and The Amazon each year. They marvel at the sights and sounds of Iquitos, Cusco, and the Sacred Valley of the Incas. Then, they return home to share their tales of adventure. Lima is merely a stepping stone one must take to get to the real destination.
Or is it?
Here are four reasons--in no particular order–to spend at least a day or two in the City of the Kings:
The Peruvian Food
Lima is known as the gastronomical capital of South America. It is known to have 400+ original dishes including Ceviche, Lomo Saltado, and Anticuchos. Cevicherias dot the city and serve some of the freshest fish available in the world. For those who don't already know, ceviche is essentially a fish salad marinated in lime, garlic, peruvian chiles, and onions; it is accompanied by sweet potato and Andean corn. Lomo saltado, a delicious meat-based dish that includes tomatoes, onions, cilantro, garlic, and soy sauce, can be found at any of the hundreds of restaurants serving traditional Peruvian food. Anticuchos, which are meat kabobs usually featuring steak, chicken, or cow hearts, can be found on many street corners or Peruvian barbeque restaurants at night. This is just the start. There are endless opportunities for food-lovers.
The People – Peruvians
Lima is known as a cultural melting pot. Peruvians, and especially Limeños, are friendly and fun to be around. If you can make the time, it is worth it to visit a Peña, which is a Peruvian party that usually continues into the early hours of the next morning. It is a showcase of Peru's most famous dances and genres of music and usually includes many opportunities to get out on the dance floor and try it out for yourself. Not to mention it is another chance to try out some of Peru's famous dishes.
The Sites in Lima
Downtown Lima features one of the oldest libraries in South America, numerous towering cathedrals, and the San Francisco monastery which is home to catacombs filled with the remains of almost 70,000 people. The Larco Museum should not be missed as it chronicles 4,000 years of Peruvian Pre-Columbian history in a collection of many beautiful artifacts. On the other side of town lies Miraflores, which is a district of Lima overlooking the ocean and features Peru's best shopping sites (and views). It is the perfect place to grab dinner and unwind after a day of sightseeing. It is the location of the majority of Lima's hotels.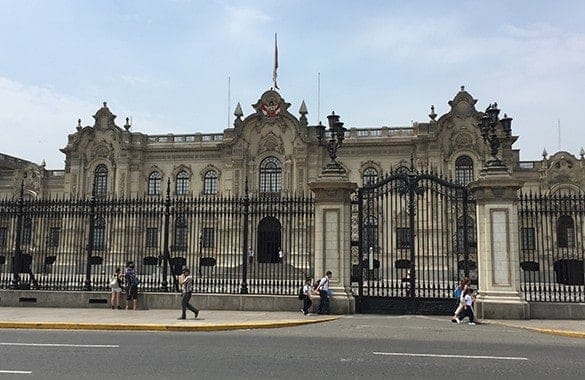 The Weather
Whether you are arriving from or on your way to Cusco and Machu Picchu, Lima's climate is perfect for relaxation and rest. Summer (January to March) hovers between 70-85 degrees Fahrenheit and provides plenty of sun. Winter (June to September) never ventures beyond 60-75 degrees Fahrenheit. All year round there is a quiet, refreshing ocean breeze that beckons you to return.
Happy Travels and we'll see you in Lima…